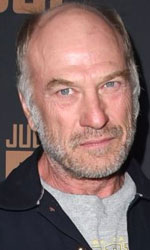 Recentemente ha recitato con Diane Kruger e Demian Bichir nella serie thriller The Bridge e con Tony Shalhoub nella serie Monk.
Levine ha recitato al fianco di John Hawkes e Chloe Sevigny nel pilot indipendente Dr. Del, scritto da John Sayles e diretto da Katie Jacobs, che ne ha anche curato la produzione esecutiva insieme a Nick Wechsler. Ted si è unito al cast della quarta stagione della serie drammatica di Showtime Ray Donovan nel ruolo ricorrente di "Little Bill Primm", l'orgoglioso proprietario di un casinò a Primm, NV. Al cinema lo vediamo nel film Bleed - Più forte del destino, per la regia di Ben Younger e Martin Scorsese come produttore esecutivo. Nel film, che ha come protagonista Miles Teller, Ted interpreterà il Manager di Miles/Vinny Pazienza.
Levine ha terminato le riprese del film indipendente Bottom of the World per la regia di Richard Sears. Nel thriller Ted interpreta un predicatore sinistro, al fianco di Jena Malone e Douglas Smith. Altri progetti più recenti includono un ruolo ricorrente nel thriller di Amazon Mad Dogs, prodotto da Shawn Ryan, e nella miniserie di IFC Network, The Spoils before Dying con Kristen Wiig e Will Ferrell. Ted è stato recentemente visto nel film Big Game - Caccia al presidente, diretto da Jalmari Helander; nel film indipendente Banshee Chapter - I file segreti della CIA per la regia di Blair Erickson; in Little Boy con Emily Watson e Tom Wilkinson; A Single Shot con Sam Rockwell, Jeffrey Wright e Melissa Leo; Gutshot Straight al fianco di Stephen Lang; Deep Dark Canyon con Justine Bateman e Matthew Lillard; e nei due film indipendenti Dig Two Graves con Sami Isler e Child of Grace con Maggie Elizabeth Jones.
Altri crediti cinematografici di Levine includono L'assassinio di Jesse James per mano del codardo Robert Ford al fianco di Brad Pitt, American Gangster della Universal per la regia di Ridley Scott, in cui recita al fianco di Russell Crowe e Denzel Washington e Shutter Island con Leonardo DiCaprio per la regia di Martin Scorsese. Inoltre ha recitato in Wonderland con Val Kilmer e Kate Bosworth, Ironweed con Jack Nicholson e Meryl Streep, Heat - La sfida con Al Pacino e Robert De Niro, Wild Wild West con Will Smith e Kevin Kline, Evolution di Ivan Reitman, con David Duchovny e Julianne Moore, Fast and Furious con Vin Diesel e Michelle Rodriguez, il thriller di Jonathan Demme The Truth About Charlie con Mark Wahlberg e Thandie Newton, Birth con Nicole Kidman, l'acclamato Memorie di una Geisha, Le colline hanno gli occhi di Wes Craven e uno dei suoi ruoli più interessanti nei panni del serial killer "Jame Gumb" nel thriller Il silenzio degli innocenti.
Le sue apparizioni televisive includono un ruolo ricorrente nella serie di David Milch e Michael Mann Luck, con Dustin Hoffman, e come guest nel memorabile primo episodio di Hell on Wheels. Altri crediti televisivi includono Harlan County War, la miniserie di USA Network Moby Dick, The Last Outlaw, Broken Promises.
Levine ha lasciato il Marlboro College nel Vermont per la recitazione. I suoi numerosi lavori teatrali includono "Buried Child" di Sam Shepard, diretto da Gary Sinise; "Your Home in the West", "El Salvador" e "Killers" per The Steppenwolf Theatre Co.; "Life and Limb", per The Wisdon Bridge Theatre; "70 Scenes of Halloween", "Time of Your Life", "A Class D Trial in Yokohama" e "The Tooth of the Game" per The Remains Theatre.