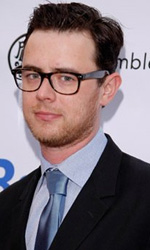 L'esordio nell'opera prima del padre
Figlio di Tom Hanks e di Samantha Lewes, frequenta la Chapman University a Orange County. Esordisce al cinema - guarda caso - proprio davanti alla cinepresa del padre che firmava la sua opera prima Music Graffiti (1996) con Tom Everett Scott, Liv Tyler, Johnathon Schaech, Steve Zahn, Charlize Theron, Giovanni Ribisi, Bill Cobbs e la sua matrigna Rita Wilson, perché nel frattempo, sua madre era morta di cancro. Fra l'altro suo padre utilizza persino i suoi migliori amici come comparse del film. Trasferitosi alla più prestigiosa Loyola Marymount University di Los Angeles, Colin Hanks continua la carriera di attore apparendo in Costi quel che costi (2000).

Un ruolo in Roswell
Sempre grazie alle (alte) influenze paterne riesce ad apparire nella miniserie Band Of Brothers (2001) nel ruolo di un soldato, poi ottiene anche il ruolo di Alex Whitman nel serial alieno Roswell (1999-2001) accanto a Shiri Appleby, Jason Behr, Katherine Heigl, Majandra Delfino, Brendan Fehr, William Sadler e John Doe.

Preferito a Hayden Christensen e Orlando Bloom
Audizionato per il ruolo di Anakin Skywalker in Star Wars II - L'attacco dei cloni(2002), viene però scartato da George Lucas che va a favore di un più fresco Hayden Christensen. Poco male, si consolerà con una nomination agli MTV Movie Award per Orange County (2002). Successivamente, prenderà parte a Ore 11:14 - Destino fatale (2003) seguito da due piccole parti ne The O.C. (2004) e Numb3rs (2005). Si presenta per il ruolo da protagonista ne Elizabethtown (2005), ma anche qui il regista, Cameron Crowe, non lo sceglie e impone invece un più convincente Orlando Bloom. Colin Hanks non si dispera e lavora accanto a suo padre in Magnificent Desolation Walking on the Moon 3D (2005) e nel kolossal King Kong (2005) di Peter Jackson, accanto a Naomi Watts, Jack Black, Adrien Brody, Andy Serkis, Jamie Bell e Thomas Kretschmann, seguito poi da Tenacious D e il destino del rock (2006) con Tim Robbins, The Great Buck Howard (2008) ancora con il papà (ma anche con John Malkovich) e My Mom's New Boyfriend (2008) con Meg Ryan e Antonio Banderas.