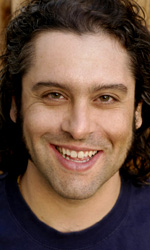 Inizia a lavorare nello showbiz come fonico di Chris Rock nel cortometraggio Who is Chris Rock?, dopo dieci anni comincia a studiare recitazione e passa davanti all'obiettivo, emergendo come uno straordinario attore comico e debuttando nel telefilm LateLine (1999), accanto a Miguel Ferrer.
Esordisce sul grande schermo con il film indie Endsville (2000) di Steven Cantor, accanto a William Fichtner, poi passa alterna il piccolo al grande schermo lavorando nel telefilm Spin City (2000) e in un piccolo ruolo in Ti presento i miei (2000) di Jay Roach, dove avrà la fortuna di stringere amicizia con Ben Stiller. L'attore e regista lo raccomanderà per la serie della NBC 30 Rock, dove occuperà il posto di regular con il ruolo di uno degli scrittori e autori di TGS with Tracy Jordan, alias Tina Fey (già attivissima al "Saturday Night Live"). Ma l'amicizia con Ben Stiller continua da set in set: da Zoolander (2001) a ...E alla fine arriva Polly (2004) fino a Starsky & Hutch (2004).
Bruttissimo, cappello da baseball sempre in testa, occhialoni luridi, presta il suo volto soprattutto per film mediocri come Due sballati al college (2001), Showtime (2002) e il demenziale Hot Movie - Un film con il lubrificante (2006), ma anche pellicole indipendenti come The Darwin Awards - Suicidi accidentali per menti poco evolute (2006).