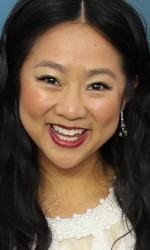 Stephanie Hsu, classe 1990, nata a Los Angeles, è nota soprattutto per la sua interpretazione di Mei nella terza stagione di La fantastica signora Maisel e di Joy nel film cult di Hulu The Path.
Da segnalare inoltre la sua straordinaria interpretazione in Everything Everywhere All at Once.
Ha esordito in un teatro sperimentale di New York, che alla fine l'ha portata a Broadway nei panni di Karen the Computer in "SpongeBob The Musical". Si è laureata alla NYU Tisch School of the Arts, ha studiato presso l'Atlantic Theatre Company e l'Experimental Theatre Wing.