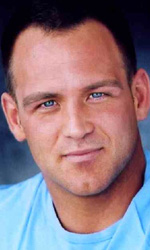 Attore canadese conosciuto per aver prestato la sua voce al drago Ord nella serie tv Dragon Tales e per aver interpretato Mark Bingham nella fiction ispirata ai veri eventi dell'11 settembre Flight 93.

In tv
Nato ad Halifax, in Nova Scotia (Canada), cresce a Ottawa, nell'Ontario. Dopo aver studiato dalla Canterbury High School, una scuola d'arte specializzata in recitazione, danza e musica, si perfezione in maniera artistica allo Studio 58. Prima di diventare un attore cinematografico, ha una lunghissima gavetta nel piccolo schermo canadese (The Crow - Stairway to Heaven di Scott Williams con Mark Dacascos; Atomic Train di David Jackson con Rob Lowe, Kristin Davis e Mena Suvari; Oltre la maschera di ="http://www.mymovies.it/biografia/?r=126">Tom McLoughlin con Donald Sutherland, Matthew Fox e Mary McDonnell; Tesoro, mi si sono ristretti i ragazzi - La serie di Francis Damberger con Thomas Dekker; Dead Man's Gun di Sturla Gunnarsson; First Wave di Gilbert M. Shilton; Killer in the House di Michael Schultz con Mario Van Peebles; Cupid di Scott Winant con Jeremy Piven; The Inspectors di Brad Turner con Louise Gossett Jr.; Sentinel con Richard Burgi; X-Files di Daniel Sackheim con David Duchovny e Gillian Anderson) all'interno del quale, però, si distingue principalmente come doppiatore di Herry in Class of the Titans, successivamente ha alcuni ruoli importanti in Battlestar Galactica e Defying Gravity. Piccolissimi i suoi ruoli in telefilm (Cold Squad, Taken, Oltre i limiti, Dark Angel, Traffic, Tru Calling, Supernatural, The L Word, Men in Trees, Smallville, Impatto dal cielo, Eureka) e fiction (A storm in summer - Temporale d'estate, Otto giorni per la vita, Un Natale a sorpresa, High Noon).

Cinema
Similmente accadrà sul grande schermo dove debutterà in un piccolo ruolo nel film Lake Placid (1999) di Steve Miner con Bridget Fonda, Bill Pullman e Oliver Platt, rimanendo però ancorato a personaggi minori (Valentine - Appuntamento con la morte, Ignition - Dieci secondi alla fine, The Chronicles of Riddick, Caos, Just Friends - Solo amici, Vita da camper con Robin Williams, Aliens vs Predator 2, Breaking Dawn) o comparse (L'acchiappasogni, Agente Cody Banks, Willard, Elektra, Firewall - Accesso negato con Harrison Ford, Conciati per le feste con Danny DeVito, Arsenico e vecchi confetti, Ultimatum alla Terra, L'alba del pianeta delle scimmie).

Vita privata
È attualmente sposato con Leanna Nash, dalla quale ha avuto due figlie: Mackenzie e Dagan Hunter Olsson.