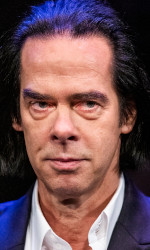 Figlio di una bibliotecaria e di un professore d'inglese, Nick Cave cresce secondo gli insegnamenti anglicani, che in seguito avrebbero influenzato la sua musica (i testi delle sue canzoni sono spesso ispirati dalla Bibbia). A scuola conosce Mick Harvey con il quale fonda la band che poi avrebbero chiamato The Boys Next Door. La prima pubblicazione del musicista è del 1978, anno in cui esce il singolo "These Boots Are Made For Walking", al quale l'anno successivo fa seguito l'album "Door Door". Quando la band cambia il nome in The Birthday Party abbandona l'Australia per andare a Londra, dove ha un fortissimo impatto nella scena rock di quegli anni. Dopo essersi trasferiti a Berlino Ovest i Birthday Party si sciolgono nel 1983 e Nick Cave passa qualche tempo a Los Angeles dove scrive la sceneggiatura " Ghosts... Of The Civil Dead".
Contemporaneamente mette insieme una prima versione di quelli che sarebbero diventati i Bad Seeds, la band che ancora oggi lo accompagna nelle sue avventure musicali. Il nome del gruppo è preso dal film del 1956 di Mervin LeRoy, The Bad Seed, intitolato in Italia Il giglio nero, a dimostrazione di quanto per il musicista australiano sia sempre stata importante la settima arte. Nel frattempo Cave torna a vivere a Berlino dove scrive il suo primo romanzo, "E l'asino vide l'angelo", al quale fa seguito nel 1988 il libro "King Ink", una collezione di testi delle canzoni e opere teatrali. In quello stesso periodo Nick Cave e i suoi Bad Seeds compaiono nel film di Wim Wenders Il cielo sopra Berlino dove suonano "The Carny" e "From Her To Eternity" ed esce nelle sale Ghosts... Of The Civil Dead diretto da John Hillcoat, che vede Cave nelle vesti di attore e di compositore delle musiche originali (insieme a Blixa Bargeld e Mick Harvey, componenti dei Bad Seeds). La sua carriera di musicista si intreccia spesso a quella cinematografica; nel 1991 interpreta la rock star Freak Storm nella commedia di Tom DiCillo, Johnny Suede, nel 1995 partecipa al documentario su Kurt Weill di Larry Weistein, September Songs, insieme a Lou Reed e Elvis Costello, e nel 1996 compone la sua seconda colonna sonora per un lungometraggio, To Have And To Hold di John Hillcoat. Nel frattempo pubblica anche il secondo volume della raccolta di testi e opere, "King Ink II". Alla fine degli anni '90 recita nella pellicola indipendente di Michael Haussman, mai uscita in Italia, Rhinoceros Hunting in Budapest, partecipa alla colonna sonora del thriller The Runner di Ron Moler e pubblica "And The Ass Saw The Angel - Readings and Music", ovvero il reading del suo primo romanzo, accompagnato dalle musiche di Mick Harvey e Ed Clayton-Jones, registrato per un adattamento teatrale. Nel 2005 compare nel documentario Leonard Cohen I'm Your Man di Lian Lunson, torna a collaborare con John Hillcoat scrivendo la sceneggiatura e incaricandosi delle musiche originali del western The Proposition; esce anche "B-Sides & Rarities", album che raccoglie b-side, rarità e canzoni utilizzate nel cinema. Nel 2006 compone la colonna sonora de L'assassinio di Jesse James di Andrew Dominik con Brad Pitt, Casey Affleck, Sam Shepard e Sam Rockwell.
La sua collaborazione con l'amico John Hillcoat continua per le musiche del film tratto da Cormac McCarthy The Road e con la stesura della sceneggiatura del gangster movie Lawless.
Andrew Dominik ha diretto su di lui due documentari, Nick Cave - One more Time with Feeling (2016) e Nick Cave - This Much I Know to be True (2022).