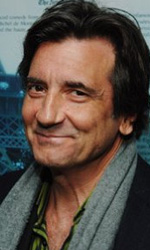 Attore, regista e producer, Griffin Dunne annovera comparizioni in oltre cinquanta lavori tra cinema e tv.
È il giovane studente in viaggio che subisce una licantropica mutazione, nella splatter comedy Un Lupo mannaro americano a Londra di John Landis; il disorientato yuppie travolto dal suburbio di New York City in Fuori orario di Martin Scorsese, nonché l'avvocato trascinato nelle peripezie di Madonna in Who's That Girl. Dietro la macchina da presa lo ricordiamo in romance come Innamorati cronici con Meg Ryan e Matthew Broderick, Amori & incantesimi interpretato da Nicole Kidman e Sandra Bullock, e Un marito di troppo (2008) con Uma Thurman e Colin Firth.

Origini
Primogenito del produttore/sceneggiatore Dominick Dunne e di sua moglie Ellen Beatriz Griffin, attivista e fondatrice dell'organizzazione "Justice for Homicide Victims", l'artista ha due fratelli: l'attrice Dominique Dunne e Alex che svolge la professione di assistente sociale. Nipote degli screenplayers John Gregory Dunne e Joan Didion, Griffin - all'età di diciotto anni - scappa dal college in Colorado per fuggire alla volta della Grande Mela e tentare fortuna nel campo della recitazione.
Esordisce a metà degli Anni Settanta, nel dramma psicologico La finestra sul cielo dove si cimenta nel ruolo di Herbie Johnson.

Altri film
In seguito, è un medico nel parody-movie Donne amazzoni sulla Luna, il Signor Jake Bixler nella tenera pellicola Papà ho trovato un amico ed incarna se stesso nel comico Fratelli per la pelle. Tra il 2007/09, eccolo al fianco di Kate Beckinsale in Snow Angels, nella commedia The Great Buck Howard, storia di un illusionista in fase di declino, nel drammatico Shrink accanto a Kevin Spacey e in Last Night (2010). Nel 2013 recita nel thriller Broken City e nel film pluripremiato di Jean-Marc Vallée Dallas Buyers Club.

Vita privata
Dunne ha alle spalle due matrimoni - il primo con la produttrice Kate Forte e il secondo con l'attrice Carey Lowell che gli ha donato una figlia che si chiama Hannah - nonché una relazione lampo con la modella Sophie Dahl. È un grande amico di Michael Keaton.