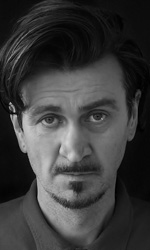 Attore britannico di origine serba, divide la sua attività fra il mondo del cinema e quello della TV. Fra i suoi lavori più interessanti ci sono Evidence of Existence (2012) di Adam El-Sharawy e Alex Frois (dove interpreta Manon) e The Seasoning House (2012) di Paul Hayett (dove interpreta Radovan).
In Italia collabora prima con Cosimo Alemà in At the end of the day - Un giorno senza fine, dove ha interpretato la parte di Vinnie, e poi con i maestri di Extreme Video Luca Boni e Marco Ristori nel loro Zombie Massacre (2012) dove ha interpretato la parte di Dragan Ilic.
Il suo debutto nella TV italiana avviene con Terence Hill in Un passo dal cielo 2 (2012) dove interpreta la parte di Nikolaj.