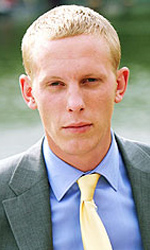 Diplomato alla Royal Academy of Dramatic Art, Laurence Fox e un membro della riverita dinastia di attori. James Fox e suo padre ed Edward Fox e suo zio.
Tra i film che Laurence ha interpretato, ricordiamo Elizabeth: The Golden Age (2007), Becoming Jane (2007), The Hole (2001) e Gosford Park (2001) di Robert Altman, vincitore del premio Oscar.
Dal 2007 al 2011 ha avuto un personaggio fisso, DS James Hathaway, nella popolare serie televisiva Lewis ed e stato protagonista della serie televisiva Wired nei panni di Phillip Manningham (2008). Presto lo vedremo protagonista della serie drammatica ITV Fast Freddie, The Widow & Me, al fianco di Sarah Smart. Come per il padre James, W.E e il primo film in cui i due attori lavorano insieme.