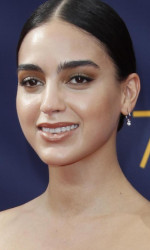 Melissa Barrera ha studiato all'American School Foundation of Monterrey, iniziando a recitare in produzioni scolastiche dei musical "Grease", "Aida" e "Footloose".
Dopo il debutto televisivo nel reality show La Academia, nel 2013 entra a far parte del duo Melissa y Sebastian, e nel 2015 registra la canzone "Volver a caer", insieme al cantante messicano Kalimba, per la telenovela in cui recita Tanto amor.
Nel 2012, dopo gli studi alla New York University, recita nelle soap La mujer de Judas e La otra cara del ama, mentre nel 2014 è protagonista della soap messicana Siempre tuya Acapulco. Nel 2015 è nella serie TV Club de Cuervos, mentre nel 2020 fa il suo debutto cinematografico internazionale con il film In The Heights - Sognando a New York. Nel 2021 è protagonista del quinto capitolo della saga di Scream.