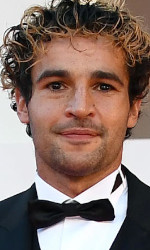 Di origine italiana e portoghese, Christopher Abbott è nato a Greenwich e cresciuto a Stamford, in Connecticut. Ha frequentato il Norwalk Community College e successivamente l'HB Studio, scuola che offre formazione professionale nelle arti dello spettacolo. Nel 2006 si è poi trasferito a New York.

Gli inizi
La sua carriera da attore ha inizio nel 2008, anno in cui ha preso parte a due produzioni teatrali off-Broadway: Good Boys and True e Mouth to Mouth. Successivamente, nel 2009 debutta in televisione in un episodio delle serie Tv Nurse Jackie, mentre nel 2010 è apparso in Law & Order: Criminal Intent. Continuando anche il suo percorso teatrale, ha debuttato poi anche in campo cinematografico, nel film drammatico La fuga di Martha, presentato al Sundance Film Festival 2011.

Cinematografia
Nel 2012 è nel cast di Art Machine, diretto da Doug Karr. Proseguendo sempre tra teatro, Tv e cinema, nel 2014 prende parte a una produzione ben riuscita anche a livello internazionale come film drammatico The Sleepwalker. Nello stesso anno ha interpretato il ruolo di Luigi Servidio nel film poliziesco 1981: Indagine a New York, diretto da J. C. Chandor, recitando al fianco di Oscar Isaac e Jessica Chastain.
Nel 2015 ha interpretato James White nell'omonimo film drammatico diretto da Josh Mond , presentato al Sundance Film Festival 2015. Il film è stato uno tra i preferiti dei critici e Abbott ha ricevuto recensioni positive per la sua interpretazione. Per la sua performance è stato candidato al Gotham Award e all'Independent Spirit Award come miglior attore, conquistandosi interesse di pubblico e stampa.
Nel 2015 compare anche in Criminal Activities di Jackie Earle Haley e l'anno successivo è nello stellare cast di Whiskey Tango Foxtrot, con Tina Fey, Margot Robbie, Martin Freeman e Billy Bob Thornton. In seguito lo vedremo in Vox Lux, First Man, The Forgiven e Sanctuary.