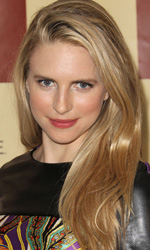 Studia presso la Georgetown University, dove si è laureata in economia e arte nel 2005. Dopo aver lavorato per un'estate come analista presso la Goldman Sachs, decide di trasferirsi a Los Angeles con l'allora fidanzato Mike Cahill, un aspirante regista con cui inizia a collaborare senza alcuna formazione nel campo della recitazione.
Uno dei suoi primi lavori è il documentario Boxers and Ballerinas, di cui è co-sceneggiatrice assieme a Mike Cahill e Nicholas Shumaker e co-regista assieme a Cahill, oltre a curare anche il montaggio e la fotografia.
Nel 2011 lavora in due film indipendenti, Another Earth e Sound of My Voice, di cui è interprete, co-sceneggiatrice e produttrice. Another Earth vince il Premio Alfred P. Sloan al Sundance Film Festival 2011, mentre la Marling vince il premio come miglior attrice al Sitges - Festival internazionale del cinema della Catalogna.
Come attrice si cimenta con la prima produzione mainstream, interpretando la figlia di Richard Gere e Susan Sarandon nel thriller di Nicholas Jarecki La frode, e nel 2012 recita accanto a Robert Redford e Nick Nolte nel film di Redford The Company You Keep, in Concorso alla Mostra del Cinema di Venezia.