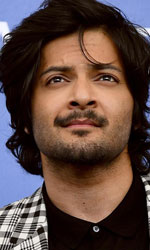 Ali Fazal è un attore teatrale e una star cinematografica in India che sta ora catturando un pubblico internazionale con ruoli da protagonista.
Nato e cresciuto in India, Fazal ha studiato recitazione e ha catturato l'attenzione dei critici con la sua interpretazione nello spettacolo teatrale di Akarsh Khurana "A Guy Thing". Questo ha portato al suo primo film per Bollywood, il grande successo di Rajkumar Hirani 3 Idiots nell'indimenticabile ruolo di Joy Lobo. 3 Idiots è diventato il film di Bollywood che ha registrato i maggiori incassi di tutti i tempi guadagnando 65 milioni di dollari in tutto il mondo.
I suoi altri crediti teatrali includono: il ruolo del protagonista nella produzione Indiana originale di White Rabbit, Red Rabbit di Nassim Soleimanpour; Crab di Arghya Lahiri; il musical di Rohan Sippy Fashion Broadway, per Chivas Studio; The Duck Variations; e The Real Inspector Hound, un classic di Tom Stoppard con il quale è andato in tournee con il Quaff Theatre interpretando il ruolo di Moon.
Fazal ha interpretato numerosi film di Bollywood, tra cui: il grande successo Fukrey; Baat Bann Gayi di Shuja Ali; Sonali Cable di Charudutt Acharya; il film horror di Karan Darra Khamoshiyan; Happy Bhag Jayegi di Mudassar Aziz; e Always Kabhi Kabhi di Roshan Abbas. Alla fine del 2017, interpreterà il sequel di Fukrey, Fukrey Returns, sempre diretto da Mrigdeep Singh Lamba.
Sul piccolo schermo, Fazal ha interpretato la serie web Bang Baaja Baaraat, diretta da Anand Tiwari; e nella miniserie televisiva USA con Chris Kattan Bollywood Hero su IFC Channel.
Ha fatto il suo esordio a Hollywood in un ruolo secondario nel blockbuster Fast & Furious 7 di James Wan con Vin Diesel, Paul Walker, Michelle Rodriguez e Dwayne Johnson. Nel 2017 è co-protagonista insieme a Judi Dench del film di Stephen Frears Vittoria e Abdul, incentrato sul rapporto tra la regina Vittoria e il suo servitore indiano.