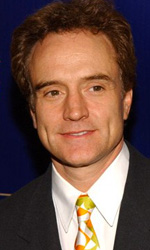 Ultimo di cinque figli, Bradley Whitford ha frequentato la Madison East High School, dopo che la sua famiglia si è trasferita da Philadelphia a Madison, nel 1973. Diplomatosi nel 1977, ha frequentato la facoltà di Inglese e Teatro presso la Wesleyan University. Successivamente, ha conseguito un master in Teatro, presso il Juilliard Theater Center e ha cominciato a lavorare come attore a New York.
Whitford ha esordito nel 1985 in Dead As a Doorman, thriller a basso costo, e nel 1989, a Broadway, è iniziato il sodalizio artistico con Aaron Sorkin (futuro creatore della serie West Wing - Tutti gli uomini del Presidente), in occasione di A Few Good Man, dove Whitford era protagonista, mentre Aaron Sorkin era sceneggiatore. Agli inizi degli anni Novanta, partecipa a diversi film tra cui Risvegli, Scent of a Woman, Philadelphia e My Life. Ma è solo a partire dal 1999 che Whitford raggiunge la notorietà, interpretando il ruolo di Josh Lyman, vicecapo del personale della Casa Bianca, nella nota serie West Wing - Tutti gli uomini del Presidente. Grazie a quel ruolo, Whitford vince nel 2001 un Emmy Award, ottiene due nomination nelle edizioni successive (2002-2003) e tre nomination Golden Globe (2001-2002-2003).
Pochi mesi dopo la conclusione di West Wing, tuttavia, Whitford ha cominciato a lavorare alla nuova serie ideata da Aaron Sorkin: Studio 60 on the Sunset Strip, dove interpreta il ruolo di Danny Tripp, ma non è stata prodotta una seconda stagione del telefilm.