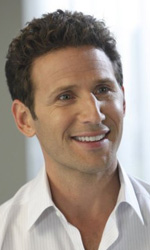 Ha ricevuto molto acclamazioni da parte della critica per i sui ruoli sia in teatro che al cinema e televisione. Uno tra i pochi attori che riesce a lavorare simultaneamente in teatro, cinema e televisione, Feuerstein è diventato uno dei talenti più richiesti di Hollywood. Lo vedremo molto presto nel film indipendente Love Shack, un'indagine poco seria sul mondo del film per adulti.
Recentemente lo abbiamo visto nel film diretto da Curtis Hanson In Her Shoes, al fianco di Toni Colette, Cameron Diaz e Shirley Maclaine. Precedentemente aveva partecipato al film indipendente Shut Up And Sing, al fianco di Molly Shannon.
Altri crediti includono Abandon - Misteriosi Omicidi, What Women Want - Quello Che Le Donne
Vogliono, La Dea Del Successo, Regole d'Onore, Per Incanto O Per Delizia, Amori E Incantesimi.
In concomitanza con i suoi lavori al cinema, Mark appare regolarmente sul piccolo schermo. Feuerstein ha recentemente completato il suo lavoro sull'episodio pilota di Royal Pains. La serie parla della vita di Hank Lawson, dottore presso il pronto soccorso del Brooklyn Heights Mercy Hospital che all'improvviso si trova senza lavoro, single e sommerso dai debiti. Tuttavia la sua vita subirà una svolta dopo il salvataggio ad opera del dottore di una supermodella che si trovava a una festa esclusiva negli Hampotns.
Ha affiancato di recente Stanley Tucci nel dramma prodotto dalla CBS che parla del mondo della neurochirurgia dal titolo 3 lbs.
Si è fatto notare per i ruoli interpretati in diverse serie di successo. Ricordiamo il ruolo di Cliff Calley, un giovane avvocato Repubblicano, in The West Wing; il proprietario bisessuale di una caffetteria in Ally McBeal. Ha inoltre recitato nel ruolo del chirurgo "Leo" in Once And Again e nel ruolo di Josh, l'oculista che era così pessimo a letto che Miranda ha dovuto fingere l'orgasmo in Sex And The City.
Altri crediti televisivi includono Caroline In The City, Conrad Bloom, Fired Up e Good Mornig Miami.
Mark debutta a Broadway nell'opera premiata con diversi Tony, diretta da Alfred Uhry The Last Night of Ballyhoo. Di recente ha recitato nello spettacolo sold-out , che ha riscosso un grande successo, Turnaround diretto da Roger Kumble.
Altri crediti teatrali includono Twelfth Night, Awake & Sing, Dark Rapture, The Misanthrope, ThreeSisters, Un Tram Chiamato Desiderio e Re Lear.