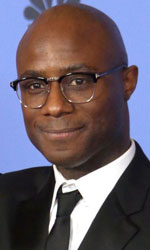 Sceneggiatore, produttore e regista, Barry Jenkins è nato e cresciuto a Miami, in Florida. Dopo essersi laureato alla Florida State University ed essersi specializzato in inglese e in cinema, si è trasferito a Los Angeles dove ha lavorato come assistente del regista Darnell Martin per il film prodotto dalla Harpo Films Their Eyes were watching God. Il film con il quale ha poi debuttato alla regia, Medicine for Melancholy, dramma romantico nominato a tre Indipendent Spirit Awards, viene distribuito negli USA da IFC Films e definito uno dei migliori film del 2009 da A.O. Scott del New York Times.
Nel 2010 Jenkins è tra i co-fondatori del collettivo Strike Anywhere Films. Candidato a diversi Spirit e Gotham Awards, il lavoro più recente di Jenkins è un adattamento per il piccolo schermo prodotto da Overbrook Films per HBO, The Leftovers.
E' il curatore e uno dei presentatori del Telluride Film Festival; ha ricevuto un premio dalla United States Artists Smith come artista innovativo, ed è stato recentemente inserito nella lista dei "20 Directors to Watch" del cinema mondiale dal New York Times. Il suo secondo film Moonlight, che racconta la vita di un ragazzo in lotta per trovare il suo posto nel mondo. Già vincitore di diversi premi (tra cui il Golden Globe per il miglior film drammatico), Moonlight, candidato a otto premi Oscar, ne ha vinti tre (tra cui miglior film e miglior sceneggiatura non originale).