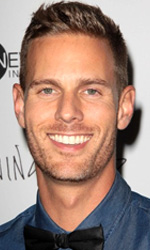 Figlio di Michael Landon, è uno sceneggiatore e regista. Ha studiato sceneggiatura alla Loyola Marymount University per tre anni, ma ha abbandonato gli studi quando il regista Larry Clark, dopo aver letto una delle sue produzioni, gli ha offerto di scrivere la sceneggiatura di Un altro giorno in paradiso (1998), in collaborazione con Stephen Chin. All'apice del successo, si trasferisce da Los Angeles ad Austin, in Texas.
Gay dichiarato, affronta spesso tematiche omosessuali nelle sue sceneggiature. Ha scritto la sceneggiatura dei film del 2007 Blood and Chocolate, Identikit di un delitto e il fortunato Disturbia. Nello stesso anno ha scritto la sceneggiatura anche per la serie televisiva Dirty Sexy Money (2007) e inoltre ha scritto e diretto il thriller Burning Palms nel 2010. Ha partecipato poi alla sceneggiatura dei film Paranormal Activity 2 (2010), Paranormal Activity 3 (2011) e Paranormal Activity 4 (2012). Nel 2014 dirige uno spin-off della serie Paranormal Activity, dal titolo Il segnato (Paranormal Activity: The Marked Ones).
Dopo Auguri per la tua morte (2017) e Ancora auguri per la tua morte (2019), è dietro la macchina da presa della slasher comedy Freaky (2020).