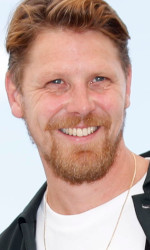 Gijs Naber ha terminato gli studi presso l'Toneelschool Maastricht nel 2003 ed ha lavorato in diverse produzioni come Zuidelijk Toneel, Paradiso / Melkweg Productiehuis e successivamente con il Teatro RO. Con quest'ultima società ha recitato in "Lang en gelukkig" e "Romeo en Julia".
Nel 2009 ha preso parte a "Een cowboy met zijn handen omhoog juicht waarschijnlijk niet". Gijs è anche apparso nel film Black book (2006), Summer heat (2008) e Het Leven uit een dag (2009). Ha interpretato ruoli minori in Johan, 06-05 e Cool!. Ha lavorato anche in tv in ANNIE M.G. (2009), De Coassistent e Spoorloos Verdwenen. È stato diretto da Alex Van Warmerdam in The last days of Emma Blank. Gijs ha inoltre preso parte in De parade, in De Achterbankgeneratie e in Slippertje Op'T Nipperteje, del collettivo Warme Winkel.
Tra le ultime interpretazioni troviamo Jazz Noir - Indagine sulla misteriosa morte del leggendario Chet e Storia di mia moglie.