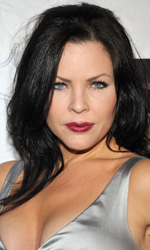 Le sue morbide curve da maggiorata hanno sollazzato la libido dei softcore-addicts, prima di irrompere nel cinema dove, la bollente Christa, si tramuta in una zombie in Day of the Dead e ansima di piacere sul letto del boyfriend di Amber Heard in Drive Angry.

Carriera
Dopo il diploma presso la Rancho Cotate High School, la Campbell si distingue come sexy giocatrice in intimo, vincendo il "Lingerie Bowl" con la squadra di football "Team Dream".
Successivamente posa nuda per male magazine quali Stuff, Maxim, FHM e Playboy.
Nel 1998 interpreta una giovane Bettie Page nel programma "E! True Hollywood Story".
Nel 2002 "Xta" è la pupa di Tommy Lee che s'imbuca al figoso party del liceo dove irrompe Un ragazzo tutto nuovo, D.J. Qualls.
Il 2005 la trova nelle succinte vesti di ninfomane squilibrata nel sadico, 2001 Maniacs. Inoltre, è una terapista che psicoanalizza Josh Hartnett nel romance Crazy in Love.
In seguito si cimenta in una cameriera, molto hot, nell'horror Il prescelto e nella procace bruna - Kelly - nell'action Professione Assassino. Nel 2014 è nel cast del film di Tibor Takacs Spiders 3D.