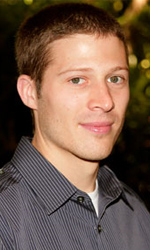 Ha sfoggiato i muscoli di Quarterback sul campo da football del liceo, lanciando il pallone nella squadra dei "Dillon Panthers", nella divisa del timido e nevrotico Matt Saracen, nell'High school serial Friday Night Lights.


Origini
Zach Gilford nasce a Evanston, in Illinois, dove frequenta la scuola superiore di Township. Si distingue per le doti di pallavolista ma, a causa di una brutta ferita, sarà costretto ad interrompere lo sport. Conseguito il diploma, il giovane si laurea presso la Northwestern University. Grazie alla sua passione per l'avventura e per i Backpacking travel, il ragazzo diviene un modello per i teenager che lo eleggono "Trip Leader"; organizza per loro gare di cross country e viaggi esplorativi in luoghi affascinati come la California, le Hawaii e l'Alaska. Successivamente, entra nello staff della YMCA (Young Men's Christian Association) allestendo campi estivi per i maschietti.

Carriera
Debutta calcando il palcoscenico in produzioni quali "Equus" and "The Laramie Project". Nel 2009, l'attore si fa notare su celluloide massaggiando gli adorabili piedini di Alexis Bledel in Laureata...e adesso?. Nel 2010, viene diretto da Matthew Leutwyler nei movie drama The River Why, storia di un pescivendolo che molla la città per ritrovare se stesso nella natura selvaggia, e in Answers to Nothing, al fianco di Julie Benz. Recita, inoltre, nel cast di Super: una action comedy con Liv Tyler e Kevin Bacon.