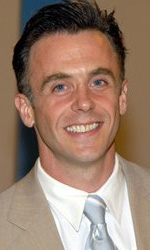 Nei panni del tenero marito di Miranda e del caratteristico barista di New York Steve Brady, David Eigenberg torna ad incarnare il ruolo di Sex and the City scritto appositamente per lui.
Prima di impressionare il pubblico della serie televisiva della HBO Sex and the City, Eigenberg si è fatto notare per la sua gelida interpretazione dell'assassino Alex Robbey in Homicide: Life on the Street. In seguito, è passato all'altra parte del tavolo degli interrogatori, grazie al ruolo ricorrente del Procuratore distrettuale Harvey Welk in The Practice. Eigenberg è anche apparso spesso in The Beat, con Mark Ruffalo, Lea DeLaria e Celeste Holm, con Tom Fontana e Barry Levinson come produttori esecutivi. L'attore ha incarnato la parte di Nick Delvecchio nella serie prodotta da Jerry Bruckheimer Gli specialisti (Soldier of Fortune, Inc. - Special Ops Forces) e ha avuto un ruolo ricorrente nel telefilm drammatico Ed.
Tra le altre apparizioni di Eigenberg in televisione, ricordiamo Close to Home, Monk, The Ghost Whisperer, Giudice Amy (Judging Amy), C.S.I.: Scena del crimine (CSI), Senza traccia (Without a Trace), The King of Queens e Camelot - Squadra emergenza (Third Watch), mentre tra i suoi film figurano See You in September, The Trouble with Romance, Driftwood, Love, Ludlow; Around the Bend, Garfield: il film (Garfield), The Mothman Prophecies e Un delitto perfetto (A Perfect Murder).
Un membro dell'Ensemble Studio Theater di New York, Eigenberg ha recitato in numerose rappresentazioni Off-Broadway. A Broadway, si è fatto notare nel 1990 interpretando un gigolò in Sei gradi di separazione (Six Degrees of Separation) di John Guare al Lincoln Center, per la regia di Jerry Zaks. Ha anche partecipato a Take Me Out, diretto da Joe Mantello, che ha ricevuto il Tony, il Drama Desk, l'Outer Critics, il Drama League e il New York Critics Award per il miglior spettacolo inedito. Ha prestato servizio in marina dal 1982 al 1986.