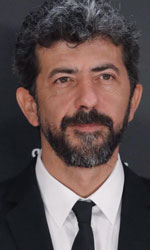 Nel 1998 ha partecipato al progetto, definito da molti pioneristico, "Amusement", sviluppato dalla Universidad Politècnica di Madrid e dedicato allo sviluppo e la ricerca di modelli virtuali. Dopo aver lavorato come direttore tecnico di Enxebre Entertainment in progetti di animazione stereoscopica per la Warner Bros, Rodriguez entra a far parte di Dygra Films come responsabile dei progetti 3D per il film Il bosco incantato, uno dei primi film europei prodotti interamente in 3D e vincitore di due premi Goya. Nel 2009 ha ricevuto una nomination agli Oscar© per il migliore progetto di laurea grazie al suo corto animato L'incredibile storia della mia bisnonna Olivia, con il quale si è laureato come regista di film d'animazione alla National Film and Television School (UK).
Dal 2010 al 2014 ha lavorato alle animazioni della serie animata3 Pocoyò, di Zinkia Entertainment, come aiuto regia e co-regista.
Ha anche pubblicato il libro "Progetti di animazione 3D", nel quale, usando come base un altro minifilm pluripremiato, Las gafas equivocadas (Gli occhiali sbagliati), Rodriguez spiega moltissimi processi tecnici per sviluppare in maniera ottimale una produzione animata. Ha anche partecipato come speaker ad eventi come "Mundos Digitales" e "Animayo", e ha collaborato come relatore ad incontri e master alla U-tad, Università di Alcalà de Henares, TEA (Tenerife), Coco School of Arts, Fundaciòn Averho, Espacio Digital de Gran Canaria e presso l'Università de La Coruna.